Are Small Businesses special?
by David Dwyer on 11/10/2013
Do Small Businesses really make the most of online opportunities?
Small businesses are special.
They're the lifeblood of our local economies. They enliven our high streets and give consumers greater choice. Their independence from the diktats of 'Head Office' sets them apart from the multiples in what they sell and how they sell it – and we're all better off for the risks they take.
There are 33.2 million small businesses
thriving in various industries across the world. These enterprises play a crucial role in driving economic growth and creating employment opportunities. From local mom-and-pop shops to innovative startups, small businesses contribute to the fabric of communities, fostering entrepreneurship and fueling innovation.
But their owners are often stretched for time and resources. They can't rely on the finance, marketing or IT departments of their chain-based cousins. Getting online can sometimes fall through the cracks. It can be hard for owner-operators to think about their online strategy when they're on the shop floor twelve hours a day, six days a week. But they need to.
Customers expect even small businesses to have a website. Even basic 'poster' sites can give a small business visibility. They also provide another means by which customers can make contact for sales or bookings. Many small businesses also earn valuable revenue through their sites by renting out advertising space on them.
And as I've said in earlier blogs, the rise of the smartphone and tablet means users now search 'on the go' for basic details; if you run a small business in catering, tourism or retail, having a website is as essential as having a telephone.
At Inspire, we've been working with small business owners for years, and understand their needs.
In fact, we help so many small businesses take their first step onto the web that we've created a website specifically for them:
www.inspirewebsites.co.uk
.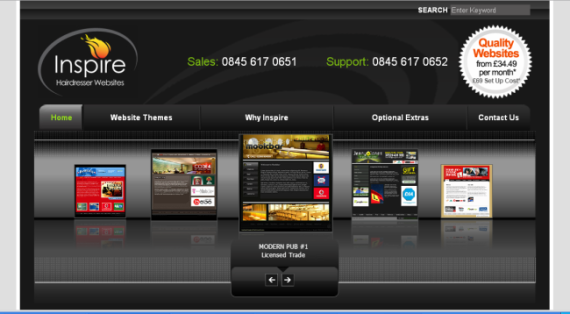 The small business owners we work with want three things from their first websites: they have to be affordable; they have to be easy to create; and they have to be able to grow with their businesses.
And that's exactly what Inspire's Small Business Website Package offers.
From £34.49 + VAT a month plus a set-up fee, your small business can have its own nine-page website, complete with an email address, website hosting, support and maintenance contract, monthly analytics and two site reviews a year.
Before we start work on the site itself, we'll discuss your business needs with you and explain how the web can support them. We call this process 'needs-based analysis', and it works really well to help our clients ensure their websites match their objectives. At this stage we'll also discuss your budget. We usually recommend clients set aside one budget for design/build and another for the promotion of the website.
To keep the design/build side of things simple, we offer a variety of themed layouts to choose from to get you started. You can even choose one designed specifically for your type of business. We've got eye-catching and effective templates for hairdressers, driving instructors, professionals, trades, pubs and much, much more.
All our layouts are designed to be tablet and mobile friendly, insofar as the technologies we use to create the website are compatible. They're designed with both desktop and tablet devices in mind, with large marketing banners so viewers won't need to pinch or expand to see or click; we call these 'thick thumbs'. But even though our websites work well on a mobile, we always recommend that our clients create a mobile-specific version of their website too.
You can read more about our Mobile Website Packages on our website
.
Once you've selected a template layout, we'll then work with you to assemble all the content and images you need. If you're looking to refresh your text or create something new, we can put you in touch with our copywriter. If you need a company logo or other branding, our graphic designers can help. If you need more pages, more email addresses or functionality or e-commerce capability, now or in the future, we'll help you with those too.
Your investment will soon pay off. Making it easier for customers to find and contact you will also make it easier for them to give you their money. After Inspire completed his website, pub and venue owner John Buchan told us that the increased number of bookings he now got meant that his 'website has paid for itself several times over'.
They say good things come in small packages. And that's certainly true of Inspire's Small Business Website Package: tailor-made for the needs of busy small business owners.
David Dwyer is Managing Director of Inspire Web Development. He has years of experience in a range of web and IT roles plus seven years in sales and marketing in a blue-chip FMCG company. David's academic and professional qualifications include a BA (Hons) in Business Economics (Personnel) from the University of Paisley, an MSc in Information Technology (Systems) from Heriot-Watt University and PRINCE2 Practitioner-level certification. He is also an active member of the British Computer Society.
Brand Management, digital advertising, Digital Marketing, Inspire Web Development, Inspire Web Services, Small Businesses, SMEs, Web Design, Website Management, Website Support