Is your blog using Google Authorship?
by David Dwyer on 07/10/2013
How to take the credit and boost your Google rankings (and your ego!)
Why does a customer choose to buy from your business rather than your competitor's?
You might be cheaper, or closer to home. You might have more persuasive sales staff, better opening hours or quicker service. It might also be because you've invested in a mobile-friendly website, and you've been busy capturing the smartphone and tablet traffic your competitors don't seem to want.
All these things matter, especially in retail and trades. But something else counts: experience and trust.
Whether they're looking for a hairdresser or a plumber, customers want to believe that the person they choose to do a job knows what they're doing. Sharing your experiences can help to build trust. And if a customer trusts you, they're more likely to choose you; other factors, like price, become less important. I'd rather have a job done properly than slightly more quickly or cheaply – wouldn't you?
But how do you get across to potential customers that you know what you're talking about? How do you let them know that you're the local expert on a certain technique or trend? Incorporating a blog, and making the most of Google Authorship, does the job nicely. Let me explain how.
Blogging sometimes gets a bad reputation. We've all seen rambling blogs about holidays and bad days at the office. But used properly, from a commercial point of view, a blog is an effective way to tell potential customers about your experience and expertise, and in return, build trust.
Blogs give you a chance to go a little bit off piste from the more formal content of your website. The insights you share with customers on your blog can be more personal and allow you to focus on particular areas of your business. Blogs also let you keep your site up to date with your latest work, sharing client feedback or business thoughts. And last but not least, having blogs also helps you rack up more keywords on your site, increasing your visibility.
Have a look at the blog by award-winning architects Dualchas (
www.dualchas.com/austerity.html
). This entry is the full text of a recent lecture given by one of the firm's owners. In it Alasdair Stephen outlines his vision for the future of homebuilding in tough times, taking the opportunity to refer to his own firm's successes along the way.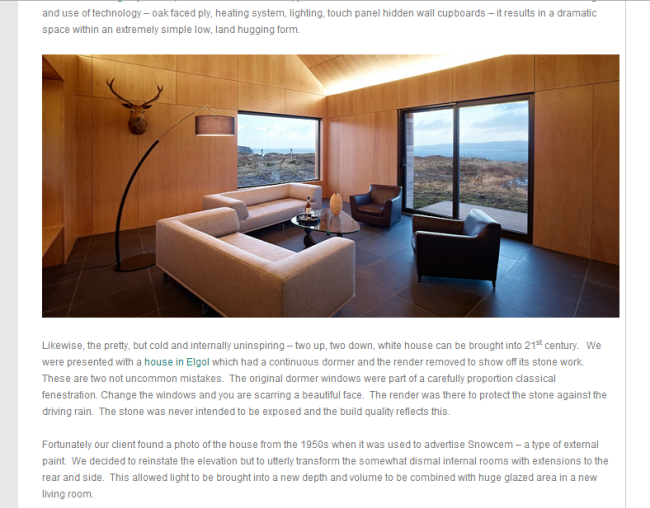 Striking images and web links help bring this blog to life. But most importantly, by being 'bylined', or credited to an individual author, the blog presents its creator as an expert on this particular subject; this in turn gives him and his firm credibility. Good business blogs aren't just anonymous content; they establish their authors as experts and associate the writer and their business with the content. You also have the advantage of having the Author Name and profile image included within Google Search Return page, see below.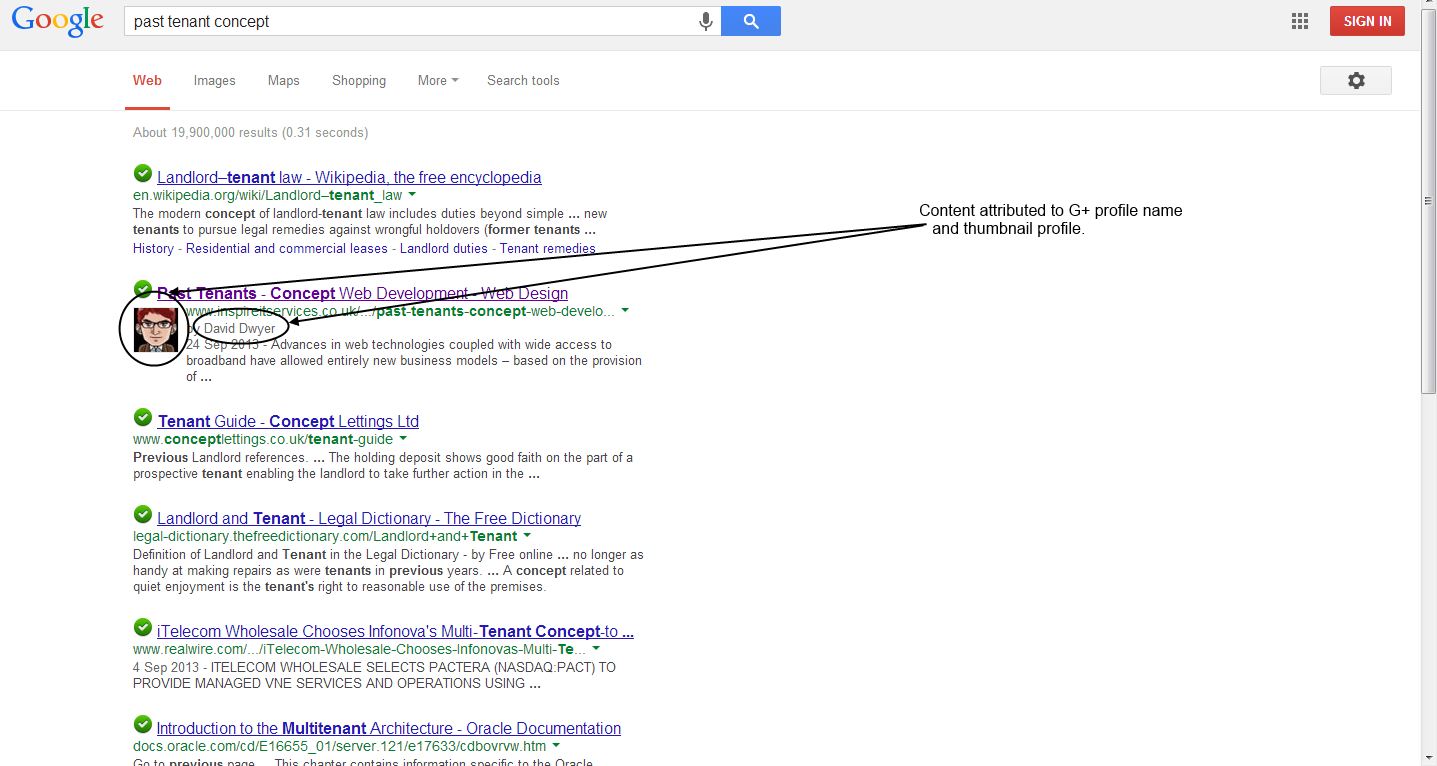 If you've got a blog on your site, taking part in the Google Author programme is essential. It associates all articles or web content posted by a given author on their own website together, and links them to their Google+ account; this practice gives their work more prominence in searches. The blogs are further associated with the writer and their company by the addition of profile photos and logos.
All types of business owners can blog, too. Clothing shop owners can write about the latest trends, promoting what they have in store. Builders can comment on their most recent projects, giving potential customers confidence that they're capable of taking on a range of work. Even web developers can blog, telling you all about the benefits of blogs … and Google Authorship.
David Dwyer is Managing Director of Inspire Web Development. He has years of experience in a range of web and IT roles plus seven years in sales and marketing in a blue-chip FMCG company. David's academic and professional qualifications include a BA (Hons) in Business Economics (Personnel) from the University of Paisley, an MSc in Information Technology (Systems) from Heriot-Watt University and PRINCE2 Practitioner-level certification. He is also an active member of the British Computer Society.
Blogging, Brand Management, Content Management, Content Marketing, Digital Marketing, Digital Trends, e-Marketing, Inspire Web Development, Inspire Web Services, Keywords, Technology Innovation, The Evolving Web, Website Content