The Brief
Bar Soba is a successful chain of bars with five locations across the UK in Glasgow, Edinburgh and Leeds. They approached Inspire to create an online solution for:
Their rapidly growing subscription service
Table and party booking service
Improvements to their national and local SEO
Email marketing events via newsletters from the website
Click & collect service
Online click & collect
Website collaboration with Uber Eats and Deliveroo
This all had to be wrapped up into a fast, mobile-friendly website that met their unique and quirky branding guidelines.
What We Did
We identified that Bar Soba had fragmented and fractured local map presence. To solve this Inspire enjoyed its KGPO Local SEO service across all of Bar Soba locations. We brought all of Bar Soba's Google My Business under one roof and ensured all details were correct, verified and optimised for a bar/restaurant business. This service ensured that Bar Soba ranked for any local search for their specific industry.
The Digital Marketing Team at Inspire created fully keyword and keyword phase researched metadata for each page of the website. This ensured Google fully understood the relevance of each page so it could return it to the person searching for one of Bar Soba's services. As a result, traffic increased significantly to the website and so did subscriptions for newsletters.
Bar Soba needed to have an advanced customer database do to the very large quantities of students signing up each year. This data was then used by Bar Soba to create an email marketing campaign for upcoming events at each bar.
Due to the nature of people searching for bars and restaurants using mainly mobile devices Bar Soba had to have an extremely fast and responsive mobile website. This ensured that hungry and thirsty customers could access the website and book a table while out in town.
Inspire had to reflect Bar Soba's unique and quirky brand design into the website without impeding on the user experience. Inspire achieved this by creating an easy to to use ladder navigation tool. This sent the user straight to the part of the website they needed with ease.
Inspire created a custom build CMS that was easy for the staff at Bar Sober to access and process delivery order, table and party bookings. This was followed up with comprehensive training for staff so they fully understand the ins and outs of the CMS.
The Outcome
Bar Soba is one of Inspires most stylish websites with zero drawbacks on functionality for the client and the customer. It oozes style whilst having the full functionality to manage bookings, email campaigns, sign-ups and contact forms from across all five locations.
The website is now fully aligned with Uber Eats and Deliveroo which is maximising profitability from the Bar Soba's kitchens.
If that isn't cause for a cold beer or cocktail then I don't know what is?

Advanced Mobile Development Custom Build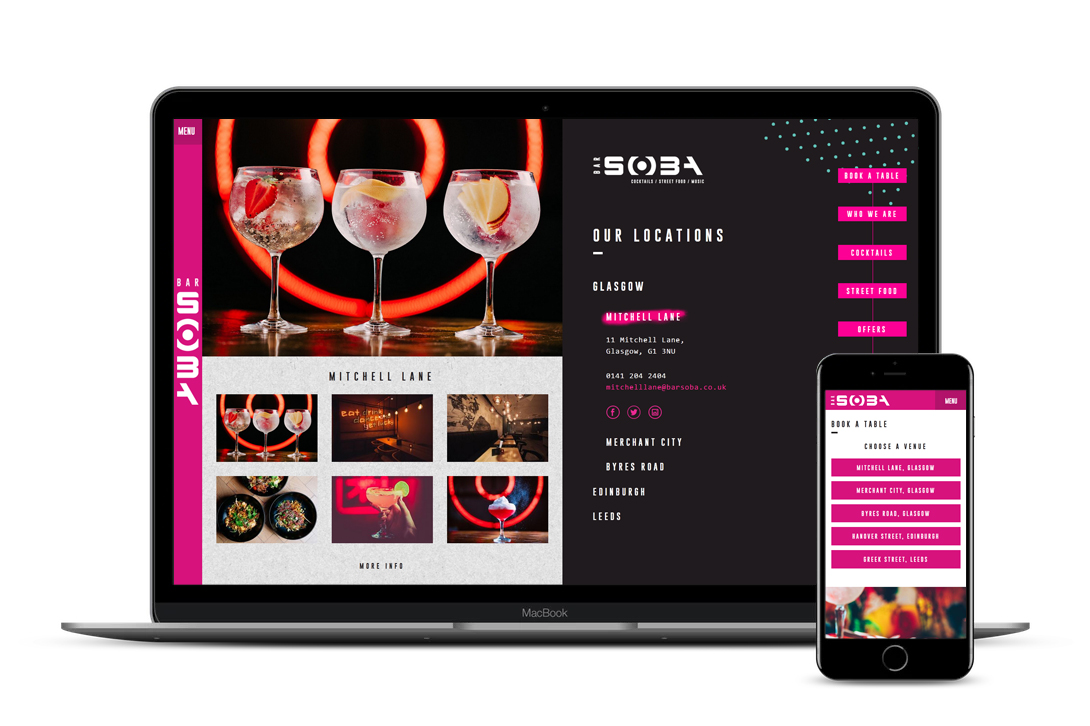 We regularly send out tips and guidance notes. Join our Mailing List and get our "Better Site Playbook"
FREE 20 MINUTE WEBSITE CONSULT
Unlike many web design or marketing agencies, we do not run automated software and send you out a long technical Website Review Report on what you or indeed your last developer have missed.
We recognise that the web is evolving at a tremendous pace, one real month is equal to one web year, so what was delivered just a few years ago, may very well be looking tired and dated.
At the four BNI Groups we are members of, we are fully signed up to Givers Gain and offer referral clients 20 minutes of our consultancy time (at no charge).
We cover a range of areas such as "What is the objective of your website?"; "What is your business model?"; "Who is your audience?"; then we can cover User eXperience; Usability; Site Analytics; Search Engine Optimisation (On-Site).
We know the value of both your and our time but we also know that we're keen to build relationships and this approach is the first building block in establishing that mutual trust and respect.
© Inspire IT Services 2021
A Scottish Web Services Company