The Brief
Jambo! Radio is a multi lingualScottish-based radio broadcaster specialising in providing music, social commentary, news, and talk shows for the African-Caribbean demographic in Scotland.

The primary aim of the broadcaster is to improve visibility, community, and empowerment amongst Scottish African and Caribbean communities. The client was recommended to us and approached us for an updated website, with a more modern feel. They were also looking for improved functionality with easier control and management from their team.

Aims of the project

Update the previous website which lacked the modern bells and whistles
A focus on showcasing information in more exciting, diverse and user-friendly ways (for example, the interactive schedule)
Fast working and easy to use
Set up online payments/donations
Ensure that every feature has the same level of functionality
What We Did
Inspire provided Jambo! Radio with a robust and fully loaded website template, which we then built upon and improve upon to fully unleash its full potential.
As a result of the complexity of what was involved, the project was given 3-4 months.

Listening

The website has a lot of great functionality that allows Jambo! Radio to not only provide a live feed of the station but also a catch-up catalogue and a showcase of their top shows on the homepage.
The Listen Live player on the homepage or the Listen Live player buttons throughout the website allows the user to listen in real time with ease.
The website allows for a dynamic and updatable interactive schedule of shows that are easily updated and adjusted in the content management system (CMS). This is a prime focus on the homepage for key Weekly Shows to be displayed.
The Programme Lading page showcases all the programmes on offer as well as individual pages to learn more about the show and listen to the latest episode. This page also allows you to download the Radio app for your phone.
In addition to this, there is a section for Radio Highlights on the homepage, again another great way to provide content for the user and for the website. This can be used to showcase special one-off events that occurred or will occur.
Another way to help entertain and provide dynamic content for the user is the introduction of the Top Five listen again shows on the homepage. These are controlled and selected manually by Jambo! Radio, and so they can change as often or little as they like. The Top Five list appears on every Team Member Profile page too!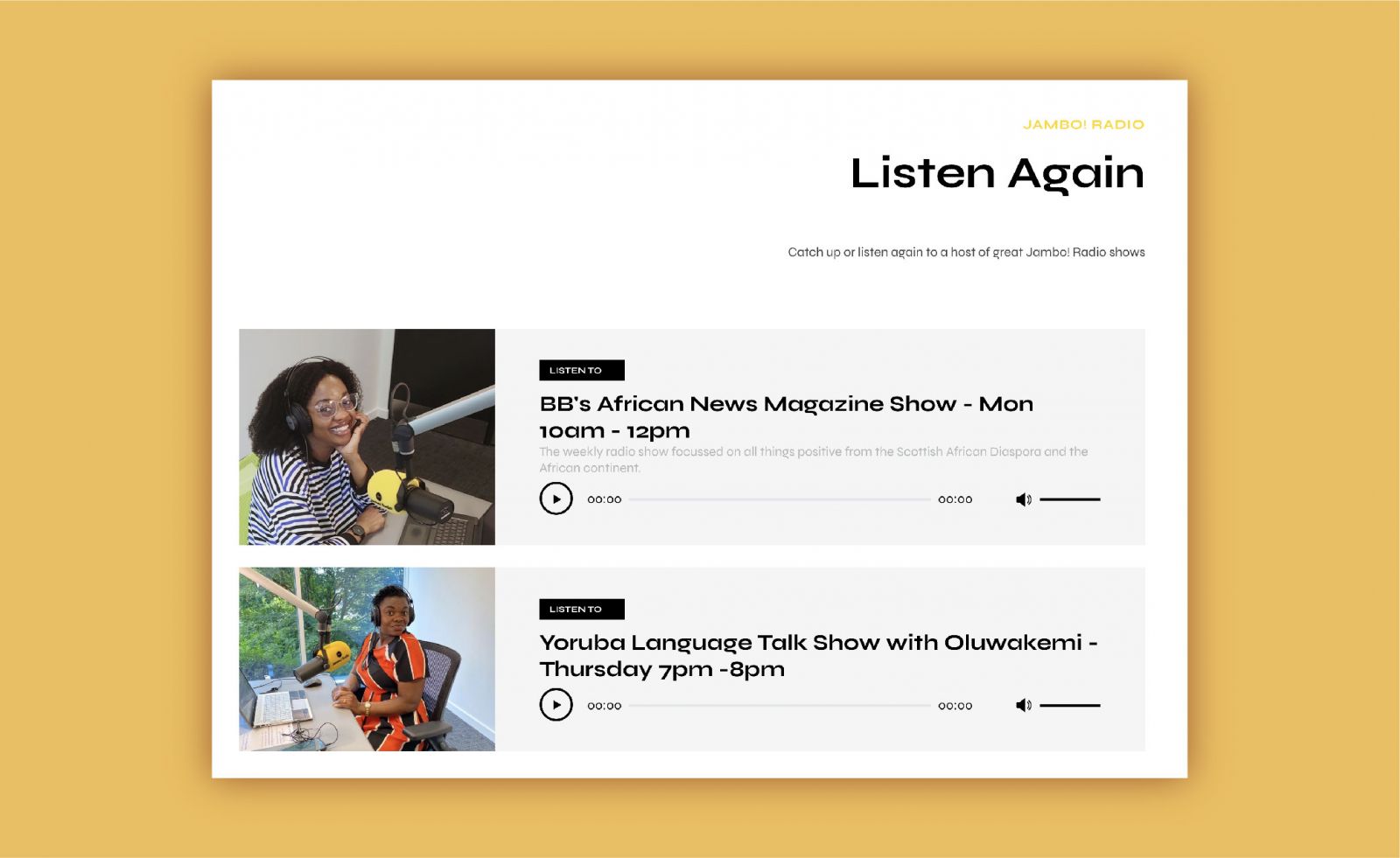 Donating

A great feature for this website and for Jambo! Radio is that it allows for donations to be taken and easily featured throughout the website.
It's always good to showcase any supporters or key partnerships, so we added a nice carousel at the bottom of the homepage.
Engaging

The website has many great ways to promote and communicate with the user. There are plenty of features that act as a great way to engage and inform them, for instance the "Popular Show" section on the home page leads to a host of highly rated shows that can be promoted. This can better explain what the show is about, diving into what the shows are and why they're popular. This page breaks it down, so new listeners have a clear point of entry. This is more effective than a standard Programme page with just text.


Social Media

The Jambo! Radio website has an active and engaging Instagram and Newsfeed on the homepage, with the News section being promoted on the subpages. We've added the ability to add scrolling messages at the top of the pages that link when selected to any news article or external/internal page.
To help users get to know the presenters and key members of the Jambo! Radio team, the website provides a fantastic Team section, where team members can have their profiles displayed and the bio uploaded for the public to get to know them better.
The Outcome
This project provided us with many challenges that we overcame. The result was a website that not only met the client's expectations but far exceeded them. The client has since received a positive reaction from users, and the Jambo! Radio team also highlighted that this website project was a worthwhile endeavour, as outlined in their testimonial on Google.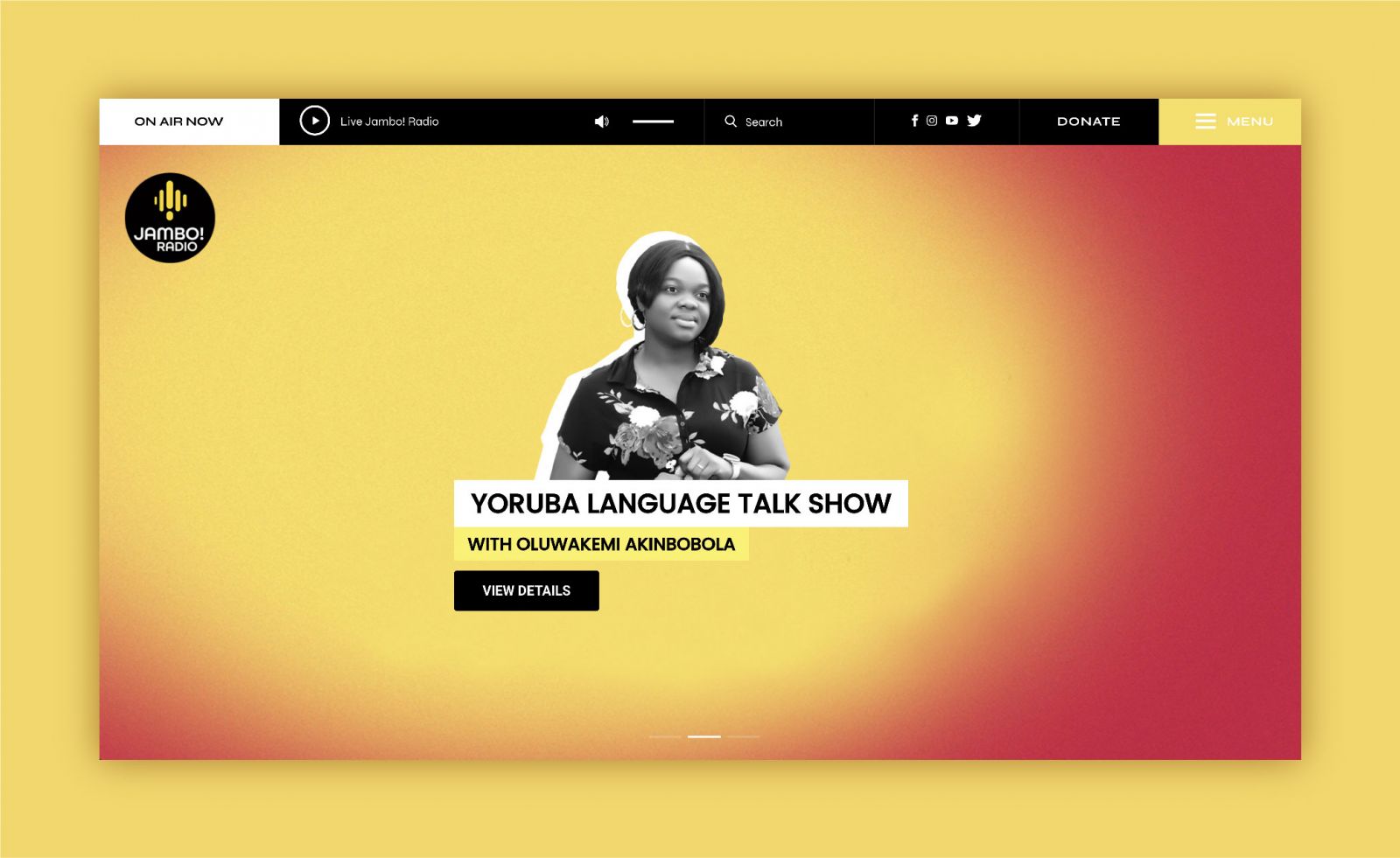 We provided hands-on one to one training on the CMS, as well as handy guides to help the client going forward.
Mobile Responsive Web Design
We regularly send out tips and guidance notes. Join our Mailing List and get our "Better Site Playbook"
FREE 20 MINUTE WEBSITE CONSULT
Unlike many web design or marketing agencies, we do not run automated software and send you out a long technical Website Review Report on what you or indeed your last developer have missed.
We recognise that the web is evolving at a tremendous pace, one real month is equal to one web year, so what was delivered just a few years ago, may very well be looking tired and dated.
At the four BNI Groups we are members of, we are fully signed up to Givers Gain and offer referral clients 20 minutes of our consultancy time (at no charge).
We cover a range of areas such as "What is the objective of your website?"; "What is your business model?"; "Who is your audience?"; then we can cover User eXperience; Usability; Site Analytics; Search Engine Optimisation (On-Site).
We know the value of both your and our time but we also know that we're keen to build relationships and this approach is the first building block in establishing that mutual trust and respect.
Connect with Inspire for all our latest news and events
© Inspire Digital 2023
A Scottish Web Services Company