Are you managing your online location presence effectively?
by David Dwyer on 07/07/2017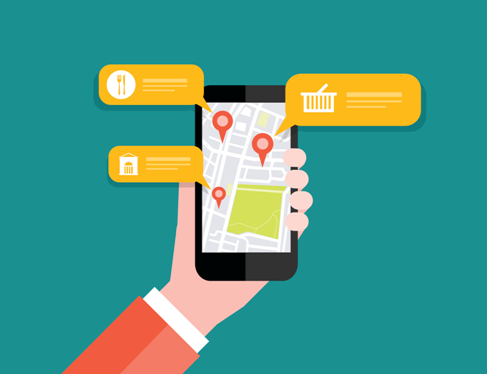 Four ways a better marketing strategy can improve your customer traffic.

The benefit of location-based search is critical, wherever your business is situated. More than 60% of searches these days are made on mobile devices, and around one-third of those are looking for local businesses.
Here in Perth, where Inspire is based, almost two million people live within one hour's drive of the city centre – that's almost half the population of Scotland. So this stuff counts.
But wherever you are, adding your location to your ads will provide an uplift, with 85% of consumer engagement with brands now through location-based assets. That means you want to show up prominently when anyone performs a locality-based search for your service or produce.
Take hotels, B&Bs and visitor attractions – or restaurants. (Perthshire has a bounty of fantastic local produce, and a great many restaurants of all kinds that use this produce to cater for locals and tourists alike.) Every hour of every day, visitors (or locals) with money to spend, or young children to feed, are looking online for guidance on the best place to eat, shop or visit, which is close to where they happen to be right now.
So how do you show up ahead of the competition? The answer lies in the Google Map Pack, which is critical to local search as Google control 95 percent of mobile search market share.

4 Ways to Improve Local Customer Traffic.
1. Split out your individual store, if it is in a multiple retail location
I've never been to Baird, Texas, but there appears to be only one dining option in the town: Dairy Queen. At least according to Google Maps. Yet if you've been to Baird, you'll know that close to the Dairy Queen is a Subway and Chester's Fried Chicken to tempt your taste buds. However, both are virtually impossible to find by searching on Google Maps.
Is your business similarly invisible where you are?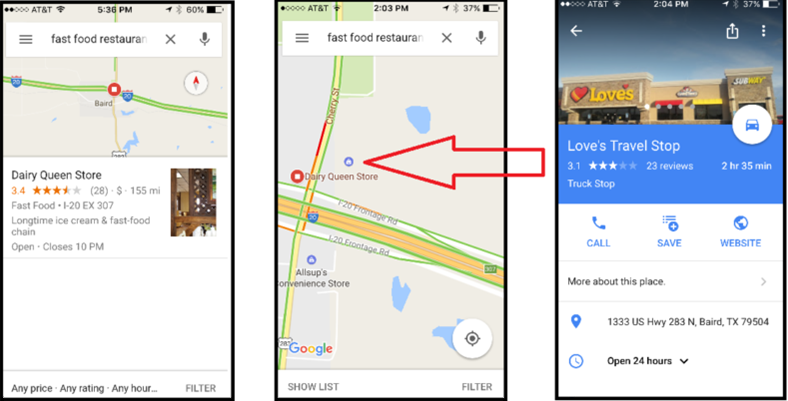 You can prevent being invisible by creating a separate Google listing for each of your stores, even those embedded in a shopping centre or similar multi-occupancy location. Google will allow multiple stores to occupy an identical address andthe most helpful differentiator in creating your unique Google listing appears to be a unique phone number.
Other ways to distinguish and promote each business include linking to unique location-based web pages, (see #2 below), and to add your unit number, if possible.
Make sure that citations (e.g., Google, Facebook, Foursquare, Factual, Bing, Hotfrog, Thomson Local, Independent, Touch Local, The Sun, Yelp, Central Index, Cyclex and Yell) also have those unique phone numbers, addresses and website/pages for each separate store. Consistency here is important, as citation signals are No.4 in the 2017 Local Search Ranking Factors.

2. Link specific locations to individual pages on Google Maps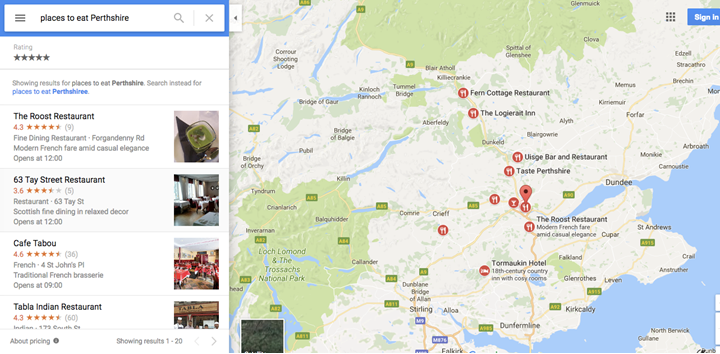 If you have more than one outlet, create a location-specific page in the web page section of Google Maps, [location.yoururl.co.uk], with your address location pinpointed precisely, and add your daily opening hours. Link signals are No2 in the 2017 survey, so this effort should repay a dividend.
Many major brands link back to their main website before offering the ability to find nearby store locations, so with this step you could appear higher than them in a locally-based search!

3. Add descriptions of all the services you offer
On the journey to you, a customer might need to stop to refuel – that could be just petrol, or the family might need some snacks as well, which is why so many petrol stations are also now convenience store. If you too offer multiple services then list your business under each you're your potential customers might be searching for "convenience store" as frequently as "petrol station". That's why My Business Signals is the No. 1 factor in the 2017 survey.
Check your listing now under a couple of relevant business categories. Do you already appear under each? A blue marker on Google Maps indicates your business is not a search result: if that's you, then your details will only show when the map is zoomed into the area surrounding your location at a scale smaller than a football field. That won't bring traffic to your door.
You might notice that some nearby businesses have two or three pins. That indicates they are listed under multiple categories, and every listing includes a description of all services, so the map always displays all listings. By providing a concise description of your complete business for each listing, you increase the odds of being found! Simples, as the Meerkat says.

4. Location-based search ads appear to boost organic mobile map search results
This one's contentious, but for now, paying for a search ad does appear to make a difference in organic search results on the Google Map app, at least under the current algorithms (June 2017).
A search for hotels in Perthshire pulled up a few major hotels, including Rufflets in nearby St Andrews (not actually in Perthshire) – which had purchased an ad.
If your business isn't showing up on Google Map results, it may be worth trying a paid advertising campaign to see if that will help. This may be true even if you have a higher rating on Google reviews or TripAdvisor, compared to a nearby competitor, as the number of reviews won't push you much higher in a locally-based search.
The take-away
A final thought. Managing this well can make a big difference in the chances of your business being found under a local search, and help boost your sales. So, review your listing now, and see whether our four tips improve your visibility. Or call us to discuss how we can help.
My Business Signals (Proximity, categories, keyword in business title, etc.) 19%
Link Signals (Inbound anchor text, linking domain authority, linking domain quantity, etc.) 17%
On-Page Signals (Presence of NAP, keywords in titles, domain authority, etc.) 14%
Citation Signals (IYP/aggregator NAP consistency, citation volume, etc.) 13%
Review Signals (Review quantity, review velocity, review diversity, etc.) 13%
Behavioral Signals (Click-through rate, mobile clicks to call, check-ins, etc.) 10%
Personalization 10%
Social Signals (Google engagement, Facebook engagement, Twitter engagement, etc.) 4%
Sourced:
Google My Business, Google Trends, Inspire Web Development, Local SEO