Where are we and what comes next in the World of Mobile Phones?
by David Dwyer on 10/09/2015
Where are we and what comes next in the World of Mobile Phones?
The Early Days
My first exposure to the 'mobile phone' as a concept came as a kid watching old Star Trek shows. With the Enterprise crew invariably communicating from a hostile planet surface asking to be beamed up. These were soon developed into tricorders, which had multiple functions (Ed: device convergence anyone?).
The first real mobile phone was the classic 'brick' phone, the Motorola DynaTac 8000x, which was launched in 1983. While it was certainly portable, it was large and heavy, and I doubt it would fit in most pockets. You'd also have to have fairly deep pockets, as it cost $3,995, putting it out of the reach of most people.
My first mobile was a business phone, from 1994 I think a Nokia 232. As a Sales Rep with Scottish Brewers this was an invaluable tool as well as an expensive one. My first mobile for purely personal use was a Motorola Razr which I won from Vodafone in 2004, along with my prized phone number of 0777 641 0777. Fast forward just 11 years and the devices we now own are essentially sophisticated, device convergent, high definition mini-computers.
The Modern Mobile Machine
Smartphones have never been smarter. I can run so many aspects of my life and my business through my iPhone, and the truth is we already take them for granted. Consider this, though; the iPhone 5 has more processing power than all the 'Super Computers' that were used to safely return Apollo 11 to Earth. We can watch and create HD quality movies. Play powerful games online. Create high-resolution graphics. And manage the productivity of our business - all from a device that measure 5 x 2.5 inches and weighs less than 120 grams.
What's around the corner?
At this year's Consumer Electronics Show (CES) in Las Vegas and the Mobile World Congress (MWC) in Barcelona, many key trends were introduced and reinforced. The truth is, with increased handset competition, combined with consumer apathy - the manufacturers of handsets have to work harder to grab our attention.
1. Mobile Payments Have Lift Off
Near Field Communication (NFC) has been used for some years now to enable people to pay by swiping or touching their card on a reader. With the launch of Apple Pay, the same functionality is available through your iPhone. Apple Pay already supports cards that account for 90% of card purchases in the US. Expect more phone manufacturers to enter the mobile payment marketplace in the not-too-distant future.
2. Wearables
Apple has again demonstrated their influence in the mobile space by showing there is more to wearables than fitness trackers such as FitBit and Google Glass. Apple still hasn't revealed initial sales of their Apple Watch product, and many commentators have suggested that's a clear indication that they have been lower than expected.
One of my fellow networkers at BNI, Willy Black of Billy Black Electrical is like me an early adopter and recently bought an iWatch, he loves it but mentioned it's much like the older iPhones in that it needs to be charged everyday, and who can really be bothered with charging not just their phone but now also their watch?
At both CES and MWC, a host of other manufacturers showcased their take on the smartwatch. Wearable will move beyond watches and glasses with the emergence of technology-enabled clothing and jewellery that will have the ability to monitor heart rate, blood pressure, and skin temperature.
Keyless cars are becoming more the norm rather than the exception now but another of my BNI colleagues, Avey Mohammed of A&S Properties was telling me that the key manufacturer Yale are pioneering a new approach for using your phone to replace your house key as well as using RFID for house key fobs to gain entry.
3. The Connected Everything
Much of the buzz around recent technology events is the continued practical demonstration of The Internet of Things (IoT). From the connected car to the connected home, IoT is beginning to get serious focus from manufacturers, journalists and consumers. Our mobile phones can already be our mini TV's, but they can now also be our light switches and our on/off and control mechanism for a host of devices. For more on the Internet of Things, including a very intelligent washing machine, visit http://www.inspireitservices.co.uk/blog/2015/08/03/internet-of-things-hip-jargon-or-reality182/ .
Futurologists View
Looking further ahead much of the trade show talk and industry focus has been about 5G, which is ironic when 4G coverage is still relatively low. So what exactly is 5G? The honest answer is that nobody knows and we'll have to wait a few more years to find out. Add into the mix Microsoft's Hololens, Oculus Rift and Virtual Reality for online retailers, new-sophisticated gesture and voice controls for handsets and the continued rise of the Internet of Things - and it's clear there is more than enough to keep most tech journalists going for quite some time.
Mobile Websites at Inspire
Reflecting on the past, and getting excited about the future possibilities of mobile technology is great, but ultimately your business needs to have both eyes on the mobile present. Establishing your mobile footprint is key, and a mobile website is a sensible first place to start.
At Inspire we're always pushing ourselves and are great believers in the famous Abraham Lincoln's quote:
"The best way to predict the future, is to create it"
We demonstrated that by developing our own site so that users visiting on a mobile device could effortlessly download our contact information direct to their phone or tablet.
We're committed to providing the best advice and technical solutions to help our clients understand, and then take advantage of the mobile opportunities open to them. With Mobile Website Packages starting at just £395 (excl VAT), we're bringing dedicated mobile sites into the reach of even the smallest of business. To find out more, contact David on 01738 700 006 or fill in our enquiry form.
David Dwyer is Managing Director of Inspire Web Development. He has years of experience in a range of web and IT roles plus seven years in sales and marketing in a blue-chip FMCG company. David's academic and professional qualifications include a BA (Hons) in Business Economics (Personnel & Ergonomics) from the University of Paisley, an MSc in Information Technology (Systems) from Heriot-Watt University and PRINCE2 Practitioner-level certification. He is also an active member of the British Computer Society, Entrepreneurial Exchange and Business for Scotland.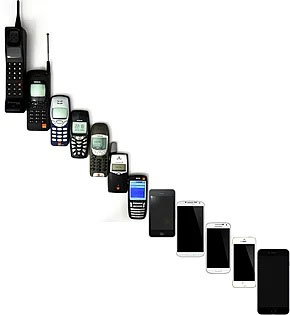 Follow Inspire on Twitter @inspireltd and @developersos
Disruptive not Disrupting Tech, Inspire Web Development, Internet of Things, Mobile Apps, Mobile Commerce, Mobile Websites, Responsive Web Design, Smart Phones, Sticky Websites, The Evolving Web, User eXperience, Web Design