Insights: Google Analytics
by David Dwyer on 31/01/2011
Getting more for your business from Web Metrics & Google Analytics

We're going to use our blog to give you an insight into web design and the web in general. The first of this series is on Google Analytics.
If you are not using Google Analytics (GA) on your site you're making a big mistake. It's a fantastic free web analytics tool from Google that gives you rich insights into your website traffic and marketing effectiveness.
It is really simple to set up and provides invaluable information on your visitors including:
How they got to your site
How long they stayed
What pages they visited while they were there
What keywords are most commonly used to find your site
All this information can help you plan future marketing campaigns and perhaps redesign your site to make it more effective.
Remember, it's FREE to register and use GA - just go to http://www.google.com/analytics and sign up. If you already have a Google account you should use that. After your registration is confirmed you will get a small piece of code that you will have to put in the footer of all web pages on your site. This let's Google do the tracking.
Here's a screen pic of one of the reports GA can provide. This is a graph showing the number of unique visitors to this website over a five month period.
This next screen pic is of the Map Overlay report which shows where your site visitors are located: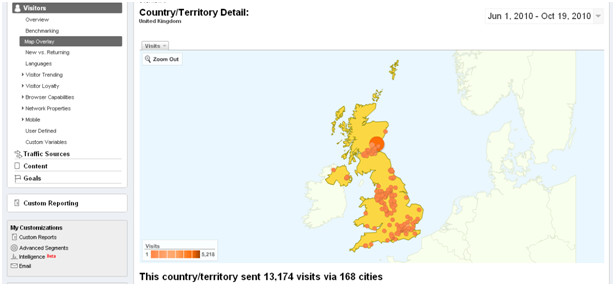 There are many other reports you can generate in Google Analytics. The above two are just examples. If you would like any help with installing this free product on your website please don't hesitate to give us a call or send an email. We'd be delighted to help. We install GA as standard on all of our clients' sites.
Click Through Rate, Customer Acquisition Cost, Google Analytics, Inspire Web Development, Inspire Web Services, Page Traffic Management, Unique Visitors, Website Management, Website Support